2015 ASHA Convention Wrap-up
The 2015 American Speech-Language-Hearing Association (ASHA) convention is now officially a wrap. The convention was held November 12 – 14 at the Colorado Convention Center and the Hyatt hotel in Denver, Colorado. Over 14,000 people attended various events throughout the convention. I attended memorable sessions and social events, and my wife and I exhibited apps for my company, Expressive Solutions, in the exhibit hall.
Sessions
Since I was interested in learning more about how to serve my students with augmentative and alternative communication (AAC) needs, I attended several AAC sessions. I learned so much valuable information by listening to the presenters (Karen Erickson, Gloria Soto, Tracy Kavich, and others) and having discussions with attendees including Carole Zangari, Vicki Clarke, Steve Oas, and Jeremy Legaspi. After all of the sessions, I feel like the main message I'm taking away is that every individual with AAC needs can have access to core words: frequently occurring words including pronouns (e.g., I, you, it), verbs (go, stop, want), prepositions (e.g., in, up, out), adjectives (e.g., good, bad, more). Regardless of an individual's cognitive or language level,  he/she can still receive exposure to core words, presented in a low-tech or high-tech AAC system comprising anywhere from 8 to 120 core words per page. As SLPs, we have a responsibility to select a vocabulary with core words and to model the core words for various communicative functions (requesting, protesting, commenting, exchanging information, etc.). We must model the core words directly to the individuals with AAC needs, and we also need to teach modeling to all of the adults (teachers, parents, paraprofessionals, etc.) who serve the individuals. Each adult on the individual's AAC team should be able to model core words for various communicative functions across settings.
Social Events
My wife (Kelly), friend named Julie, and I went to a couple different social events during the convention. One night, we attended an event hosted by Yapp Guru, a group of SLPs led by Aubrey Taylor Klingensmith and Mai Ling Chan who provide trainings and reviews of speech-language therapy apps. It was nice to socialize with SLPs affiliated with Yapp Guru, and to hear about what's coming for the group, including online trainings. On another night, we attended an event hosted by the SLP Bloggers, a group of SLPs who blog and create materials for Teachers Pay Teachers (TPT). I was honored by the fact that one of the SLPs, Danielle Reed, used our app, Raffleway, to scan the badges of over 90 people who attended. It was a lot of fun to see how excited people were to win TPT materials, apps, and other prizes.
Exhibit Hall
Kelly, Julie, and I spent each day of the convention demonstrating our apps at the Expressive Solutions booth. We enjoyed talking to SLPs as we highlighted features in Percentally Pro 2, ArtikPix Levels, ArtikPix, and our other apps. We also scanned badges (using our Raffleway app on my iPhone) for a giveaway of iTunes codes, Gripcase products, and an iPad mini 4. Toward the end of the exhibit hall time on the last day, the giveaway participants gathered in anticipation around our booth as I picked the winners on my Apple Watch.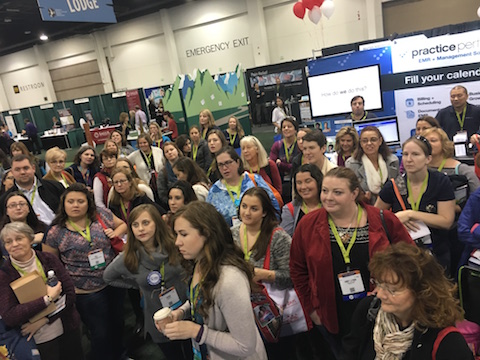 It was exhilarating to pick the following winners for the prizes:
Abigail Hiebner – 1, $10 iTunes code
Julia Lowe – 1, $10 iTunes code
Sarah Peters – 1, $10 iTunes code
Caitlin Stueve – 1 iPad Air Gripcase
Katherine Marshall – 1 iPad mini Gripcase stand and case
Dana Fritschi – 1 iPad mini 4
The 2015 ASHA Convention was really fun, but I also learned a lot and networked with several professionals in our industry. I look forward to attending next year's ASHA convention.